This is a blog post in a series on converting a 1978 Puch Maxi Moped from fuel combustion, to electric powered.
Read Part 1 here. Read Part 2 here. Read Part 3 here. Read Part 4 here. Read Part 5 here.
For a long time, I've been interested in building my own electric vehicle. The basic idea is: Find a cheap vehicle that's got "good bones", and rip out all the motor / fuel combustion pieces and replace everything with lithium ion batteries and a brushless DC electric motor. With Tesla and electric cars on the rise, good batteries and components are cheap and available.
Project Goals
Some main goals of the project:
Rescue and restore something vintage, that would otherwise probably end up melted down for scrap.
Preserve as much of the classic look of the vehicle as possible.
Learn the basics of electric motors, large battery arrays, and all the other electric components.
Build something that's good for cruising around town, doing small errands, and riding to the train station for work.
Originally, I thought about buying an old junker car, and doing an EV conversion. There are great kits available at places like EVWest for all sorts of classic cars. After some initial research, I opted to start with something simpler for a first build. When I was a kid, I always wanted to have my own moped; plus they're much easier to work on than motorcycles.
Finding A Moped
Mopeds grew in popularity in the United States in the 1970s: The gas shortage in the states increased demand for vehicles that could get 120 MPG, and still operate with pedals if you couldn't get gas that day. Two popular and available mopeds brands from the time were Tomos imported from Slovenia, and Puch, imported from Austria. I did some Craigslist hunting, and found a great deal on a Puch Maxi that wasn't running:
Definitely some grime from the roads of Chicago, but nothing that some degreaser and cleaner can't solve!
Puch Maxis are still quite prevelant, easy to work on, and have lots of information and parts still availale (new and old).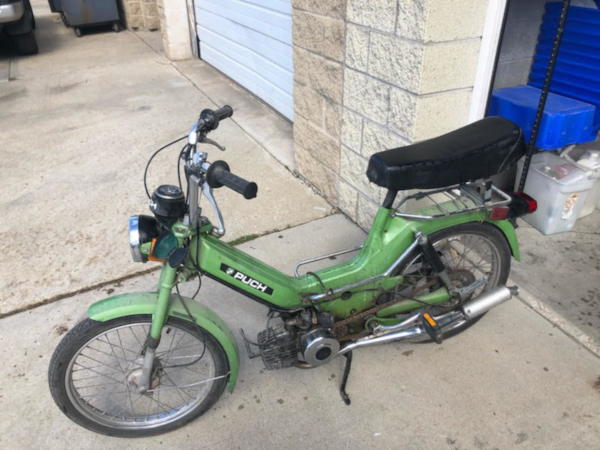 Paid cash, got a Bill of Sale, and brought her home in my mother-in-law's van.
Research
With the moped in the garage, it was time to learn the basics of electric mopeds and motorcycles.
A lot of literature is written about electric motorcycle conversions, as well as e-bike conversions. It was useful to find other moped conversions to understand the different challenges that are specific to mopeds. I found a great Honda Express EV conversion thread on Endless Sphere (this seems to be the main watering hole for EV enthusiasts).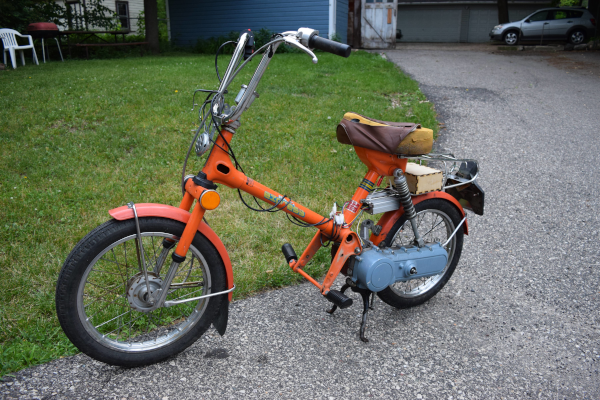 There was also a Puch Maxi EV conversion on Endless Sphere that went for a more modern ebike offroad use.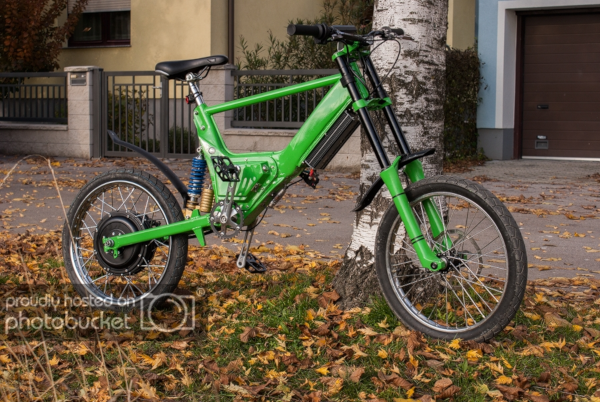 BenjaminNelson on YouTube has a great starting video series on converting an electric motorcycle. He walks through all the basics from start to finish, even helpful safety reminders when working with high amperage electric circuits.
Disassembly and Cleaning
The first step in the process was to do a complete disassembly. Not only is this a great way to get familiar with the moped, but is necessary for part cleaning and repainting the frame components.
I stumbled onto an awesome YouTube channel called David Fixes His Shit (Aren't some YouTube channel names awesome?). David is a moped enthusiast in Virginia, who published a full 6 part series on restoring his wife's Puch Maxi. It was useful to see his approach to restoring his Maxi, even with parts of the build that won't be applicable to my project (motor rebuild and other fuel-combustion fun).
I took the moped down to the frame, carefully labelling and bagging all screws, bolts and fasteners to help with reassembly. Because of the age of the bike, there were definitely some tough screws to get off (Ugh, the cotter pin on the pedal arm was the worst).
It's amazing where dirt hides on something that's been on the road this long. Much Zep purple cleaner (for water soluble stuff) and Brakleen later, we've arrived at: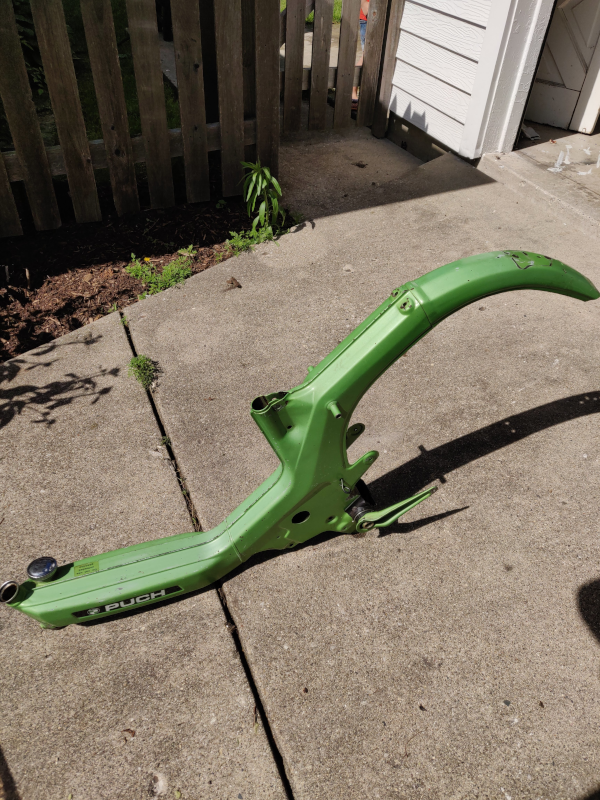 She really does clean up pretty well…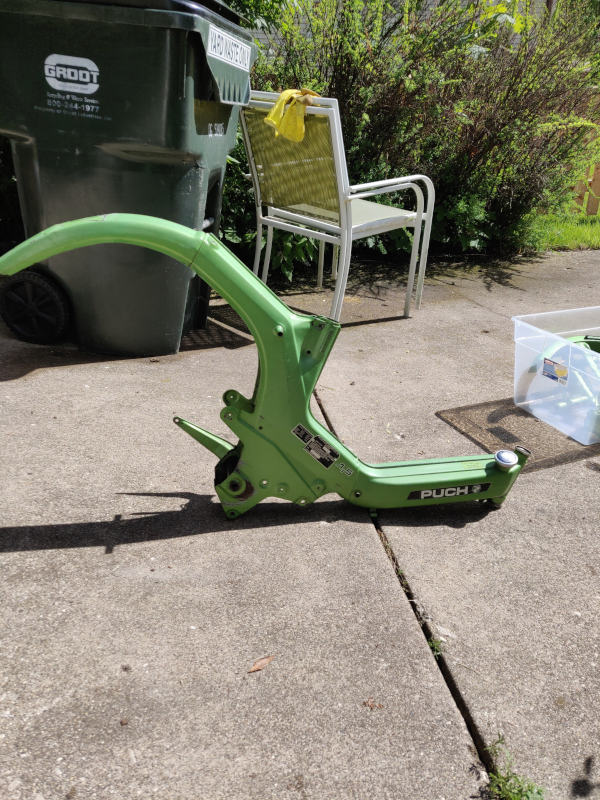 I also took steel wool and chrome polish to all the chrome, so I can reuse as much of the original components as possible.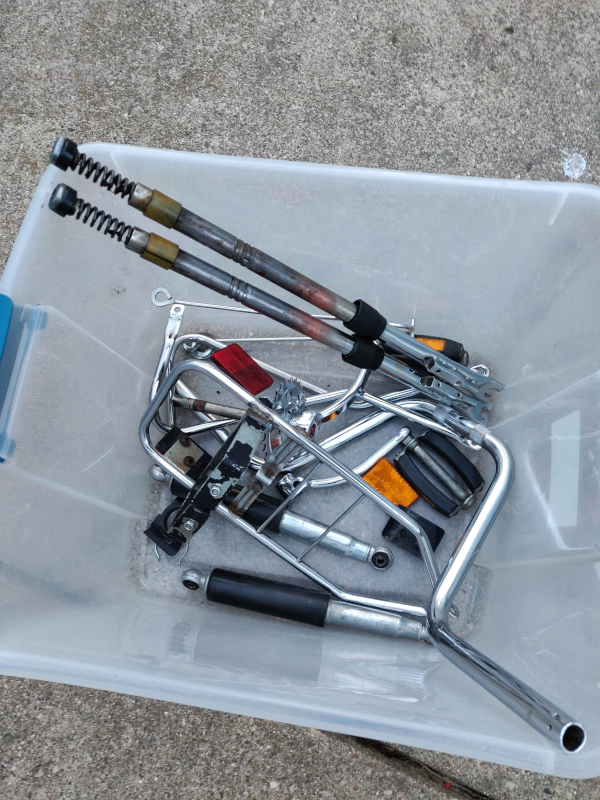 She has some scratches and minor surface rust, but nothing that can't be fixed with some paint and powder coating. There's a great local powder coating shop that's working with me to paint all the green components.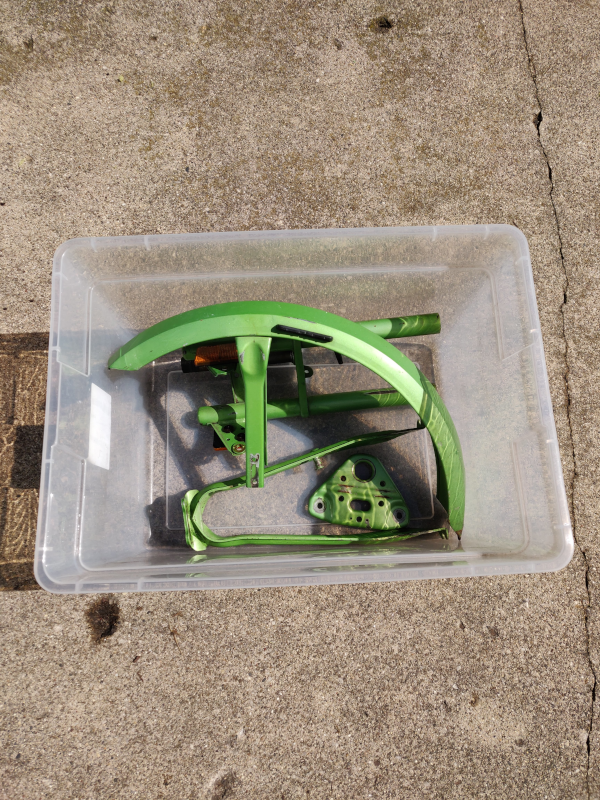 Because the powder coating process involves a really hot oven, with potential open flames, I needed to remove all traces of flammable gasoline before starting the paint process. I filled the tank with Dawn and water, and let it sit for several days, flushing it thoroughly to remove all traces of fuel.
Motor Plate Mount
When I was blocked on disassembly problems, I spent time researching motors that would work well, and fit in the Maxi frame. Aliexpress has an abundance of motors and controllers from China: I settled on a mid-drive motor (Kunray MY1020 1600W mid-drive) that could slot in to a similar spot as the normal Puch Maxi E50 motor.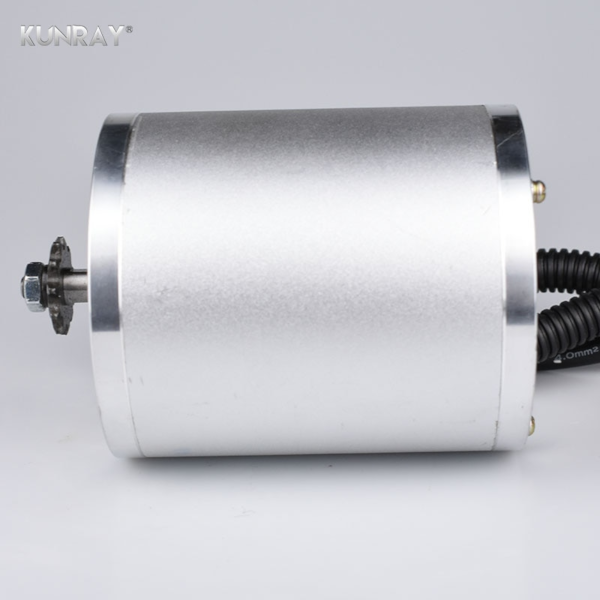 I started work on designing a motor plate that could fit in the same motor mount points on the frame.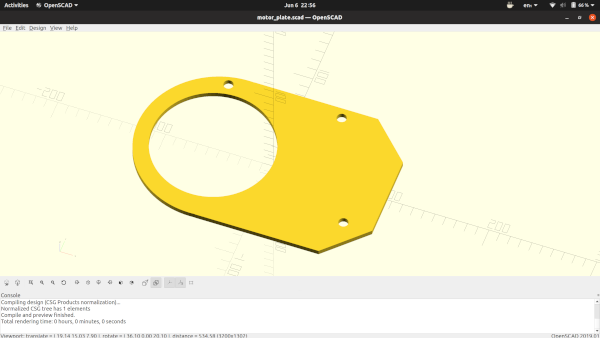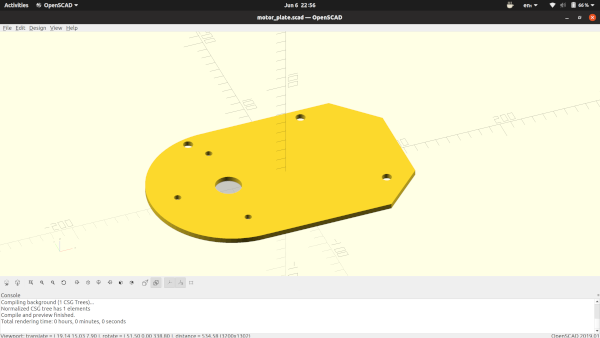 This design is inspired by a German Youtube video of a guy who converted a Puch Maxi to electric.
My plan is to do multiple iterations with 3D printed parts, in order to test sizing and fit. Once everything looks good with the 3D printed designs, I plan to have them CNC'd in aluminium for rigidity and durability.
My brother in-law helped me with the first pass of 3D printing. Lots of fit problems with the first design, but I have a much better idea of how the next iteration needs to change.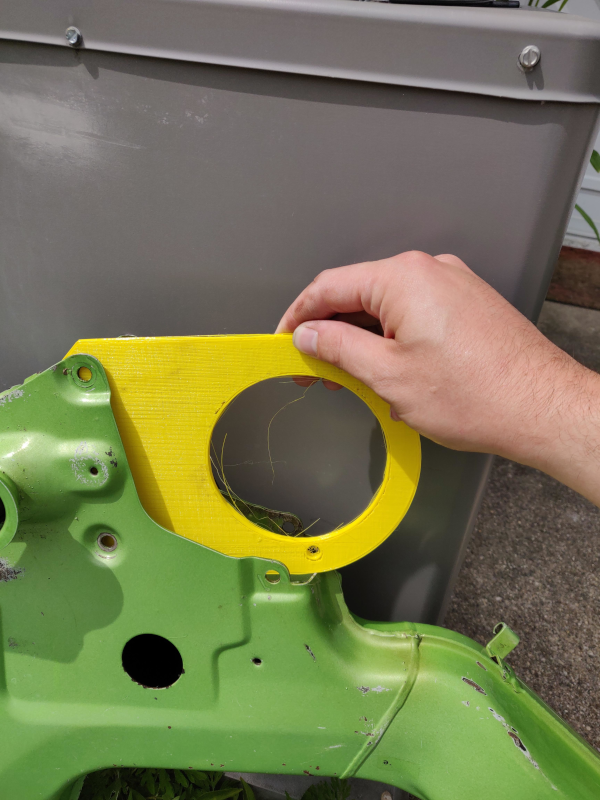 Up Next
I'll be dropping the frame and other components off at the powder coating place soon. In the meantime, the motor and controller should be arriving soon from China, allowing me to continue iterating on the fit and sizing of the motor plates. I'll also be cleaning and repacking the wheel bearings, and hammering out a few wheel dents.
I have other fun ideas in store, including modernizing the old Puch speedometer, converting the old 6V AC Italian headlight to a 12V DC LED light, while preserving the original lamp. Stay tuned for more project updates!
Next: Read Part 2 here